So, of course it was leaked early that this week was a Jin and Sun episode. All week, then, because of that, I've been thinking "Will their reunion be as sweet and 'about damn time' as Rose and Bernard's?"
And then they didn't even get reunited this week!!
I guess I should have known better, by now. Lost doesn't just hand us things. Of course they probably wont be reunited until the final episode. What was I thinking?
Okay. We have a lot to discuss this week.
So first of all, I thought Lost did a really good job of tricking us on the Jin/Sun front. In that first episode, when Jin told her to button her cardigan, I was totally thinking she was still running away and leaving him because he was being a hard-ass, just like the last time this happened. So when we found out they're not only not married, but he was her BODY GUARD, and they were planning on running away TOGETHER - woah. Nice one, Lost.
My first instinct when Sun was talking to Flocke (someone commented calling him Flocke last week and I thought it was hilarious: Fake Locke. I'm calling him that from now on) in the garden, but then I realized; I'd be skeptical too. We at home were probably all screaming at our televisions "GO WITH HIM, HE HAS JIN!" but the last
Sun
saw of Flocke, he was a dead body on a beach and a killing machine at the Temple. Not the best travel companion, in my opinion. Or hers either, clearly.
Keamy in the flashsideways. This wasn't so much a teehee moment but a tying together of teehee moments. I mean, we're starting to get an overlapping cohesive story line with these flash sideways now, but I'm still unconvinced as to why I should give a crap about Keamy, whom as far as I care died in the jungle and that's that. I did like seeing this alternate reality for Jin and Sun, though, where they're in love and trying to outsmart Sun's father (obviously that wasn't going to happen). So a thumbs up on the LAX timeline from me this week.
So Widmore's people took Jin. Right away I was thinking they were taking candidates, but they left Saywer, so apparently they really were only taking him to get information about that map? I liked that they kept him in Alex Rousseau's boyfriend's torture room. I miss Karl.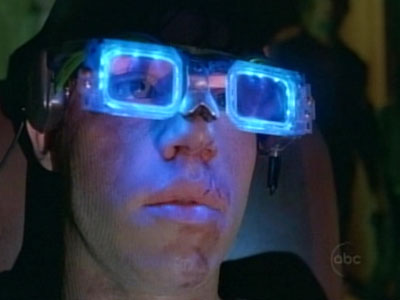 One thing that hit me today while watching is that Flocke is being all lovey dovey and friendly toward the candidates and promising to get them off the island.. can he actually keep that promise? Or does he
have
to kill them, to make sure there is no chance any of them find a way to replace Jacob?
Obviously Desmond is exciting and new and omg-worthy, but I'll leave that to someone else to discuss this week. I was more excited to find out Widmore is on Team Jacob, personally.
I ended my long stream of notes on this episode with a series of all-capital scribbles saying "WHAAAAT? SUNNN! THIS IS SO THE ENDING OF DR. HORRIBLE'S!"
Until next week,
Swan
PS. I haven't done quote of the week in awhile - this week, what made me laugh the hardest was, "Hey, don't talk about bacon."